Ad blocker interference detected!
Wikia is a free-to-use site that makes money from advertising. We have a modified experience for viewers using ad blockers

Wikia is not accessible if you've made further modifications. Remove the custom ad blocker rule(s) and the page will load as expected.
Alan Wake has received a few editions for its release. One such is the Limited Collectors Edition. The Xbox 360 version of this was released at the same time as the original version on 14th May 2010 for Europe, and May 18th for North America. The PC collectors edition was released on 16th February 2012 for the digital release, and the 2nd March 2012 for the boxed release. Contents are all similar but differ depending on the version you buy.
Standard Edition
Edit
The normal edition contains:
Main Game Disc
Download code for The Signal DLC
Manual
Limited Collectors Edition
Edit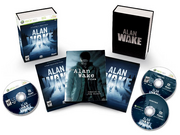 The Limited Edition for the Xbox 360 contains:
Hardbound in quality linen, the Limited Collector's edition is designed to resemble a hardcover book. The pack includes:
Game Disc in box with unique art.
Exclusive In-Game Audio Commentary and Hints by Remedy.
"The Alan Wake Files" – a 144pg book compiled by the fictional character Clay Steward that includes the FBI dossiers of Agent Nightingale, who investigated the events in Bright Falls, WA. The book also contains a short story penned by Alan Wake and an excerpt from one of his Alex Casey novels.
Exclusive Audio Disc with Soundtrack and Score.
Code for The Signal DLC.
Exclusive Xbox disc with special content: Alan Wake Xbox Live Theme and Alan Wake Avatar Awards for Xbox LIVE.
PC / Computer
Edit
Boxed Standard Edition
Edit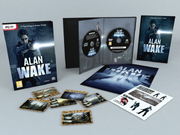 The boxed standard edition contains:
Premium packaging
Disc 1: Main game plus both DLCs The Signa'l and The Writer
Disc 2: OST of the game including 13 Tracks (Audio-CD)
6 Post cards with different pictures/scenes from the game
Manual
1 poster (printed on both sides)
7 stickers with different pictures/scenes/characters from the game
Boxed Collectors Edition
Edit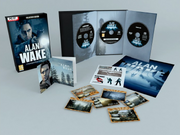 The PC boxed version has a slightly different Collectors Edition than the Xbox 360 due to some contents only being available on the Xbox 360.
Premium packaging
Disc 1: Main game plus both DLCs The Signal and The Writer; Additionally, the main game of the LCE contains audio commentary and background information by Remedy, which can be switched on in addition to the game
Disc 2: OST of the game including 13 Tracks (Audio-CD)
Disc 3 + Disc 4: Bonus Disc: History of Remedy, Making of Alan Wake, Making of a thriller, a music video by the "Old gods of Asgard", several trailers to the game, Storyboard (witch concept art) as a movie clip
The Alan Wake Files: 144 pages with evidence on the mysterious incidents around Alan Wake and Bright Falls, set in-universe and compiled by character Clay Steward (softcover)
6 Post cards with different pictures/scenes from the game
Manual
1 poster (printed on both sides)
7 stickers with different pictures/scenes/characters from the game
Digital Collectors Edition
Edit
The digital collectors edition includes:
Alan Wake game + 2 DLC's (The Signal and The Writer)
The Alan Wake Files (PDF)
Developer Commentary
Alan Wake Soundtrack
Unboxing Video
Edit