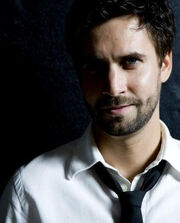 Ilkka Villi (born August 4, 1975) is a Finnish actor known for his roles as the physical model for Alan Wake and his evil doppelganger, Mr. Scratch, although in both cases, even during live-action footage, Villi's voice is dubbed over by voice actor Matthew Porretta.
Alan Wake Series
Edit
Filmography
Edit
Pelicanman (Pelikaanimies, 2004)
Promise (Lupaus, 2005)
Tali-Ihantala 1944 (2007)
The House of Branching Love (Haarautuvan rakkauden talo, 2009)
Vares: Garter Snake (Vares – Sukkanauhakäärme, 2011)
Dirty Bomb (Likainen pommi, 2011)
Body of Water (Syvälle salattu, 2011)
Imaginaerum (2012)
Ad blocker interference detected!
Wikia is a free-to-use site that makes money from advertising. We have a modified experience for viewers using ad blockers

Wikia is not accessible if you've made further modifications. Remove the custom ad blocker rule(s) and the page will load as expected.