Just down the road on Highway 509 near the old steel bridge, the Majestic Motell combines easy road access with the beauty of the mountains. Comfortable beds, clean rooms, and wireless Internet. Laundry facilities (watch machine #3, it clogs), free cable TV, and a kitchenette in every room! Inexpensive, with friendly staff. Monthly rates available. Call 555-8923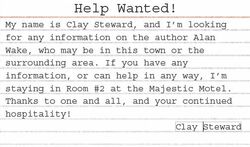 Room 2 of the Majestic Motell had a couple of notable visitors. Robert Nightingale stayed in this room, the room was a mess. It had lots of pictures of Alan Wake, Alice, Barry Wheeler and other Bright Falls residents. This room also contained lots of alcoholic drinks. This confirmed that agent Nightingale was an avid drinker.

Another visitor in room 2 was Clay Steward. He stayed there while he was in Bright Falls, looking for Alan Wake. It was in that room he found Agent Nightingale's notes, which he later published in his book.
From the website:

[1 STAR]
BigMuthaTrucka: 11/12/2003: Always a good time if you score before you get here. The lot lizards are cheap, but aint much to look at. No food, and nowhere to buy none. Usually stay in the parking lot. Staff are what you'd expect; out to make a buck.
[3 STARS]
ErnestStorm: 3'/29/2005: The place seems to have improved under the new management, with the rooms tidy, and a real sense of bringing the Majestic back from its faded glory. One problem that can't be overlooked is the road noise. And with all this spectacular scenery, I expected a better view than a parking lot.
[3 STARS]
CStew23: 9/15/2009: The Majestic Motell (yes, apparently it is a spelled with two of them) is a no-frills, but extremely pleasant place, a little remote, and with little to disturb you except for the incessent trucks hurtling up Highway 509. We're trying to wake him now, yes. But it isn't going to be easy. For those on a budget.
Map of Highway 509 and Majestic Motel
Edit
Clay Steward and Agent Nightingale were both looking for Alan and both stayed at the Majestic Motell in room 2.
You can find a shotgun with some ammo behind the counter in the office.
When Alan is in the police office he gets warned not to go to the Majestic Motell, because it has roaches.
Clay Steward finds the notes of Agent Nightingale in the air vent of Room 2.
According to Deputy Grant the Majestic is known for its roaches.
Unanswered Questions
Edit
Why was the door to room 2 unlocked and the other rooms locked?
Why is the first of the three rooms "Room 2"? Where is Room 1?