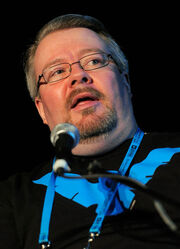 Mikko 'Mikki' Rautalahti
is currently the Story Team Manager at 
Remedy Entertainment
, working on Quantum Break. He joined the company as a Writer during the development of Alan Wake. Later became the Senior Writer for Alan Wake's American Nightmare.
Mikki lives in Helsinki, Finland, in the past he has worked as a journalist and translator.
Personal Blog http://funpastimes.com/
Official Twitter https://twitter.com/MikkiRMD
Ad blocker interference detected!
Wikia is a free-to-use site that makes money from advertising. We have a modified experience for viewers using ad blockers

Wikia is not accessible if you've made further modifications. Remove the custom ad blocker rule(s) and the page will load as expected.