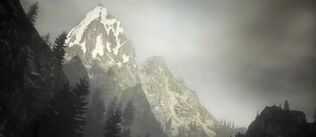 Mirror Peak is a mountain overlooking Cauldron lake and one of the most iconic landmarks in Bright Falls.
The name Mirror Peak is an obvious reference to the early 90's iconic American serial drama Twin Peaks, created by David Lynch and Mark Frost.
Ad blocker interference detected!
Wikia is a free-to-use site that makes money from advertising. We have a modified experience for viewers using ad blockers

Wikia is not accessible if you've made further modifications. Remove the custom ad blocker rule(s) and the page will load as expected.