Survivor is an achievement earned in Alan Wake's American Nightmare.
Description
Edit
Pre-Achievement:
Post-Achievement:
You got 70,000 points in any Nightmare Arcade level.
Background
Edit
This achievement is awarded for acquiring 70,000 total points during any Nightmare Fight 'Till Dawn level. Please note, the points must be earned before dawn. This means that any points you get for killing the Taken when dawn breaks will not count towards the achievement. The best way to do this achievement would be to load up Ghost Town on Nightmare. Be sure to pick up the Flare gun , the Magnum, and the Combat Shotgun or Hunting Rifle, as well as several flares. Then make your way to a staircase on the side of a building. Hold there until you are out of ammo, then use the flares to keep the taken away until you get to the ammo box, then get back to the stairs. From here, you should be able to last until you get the achievement.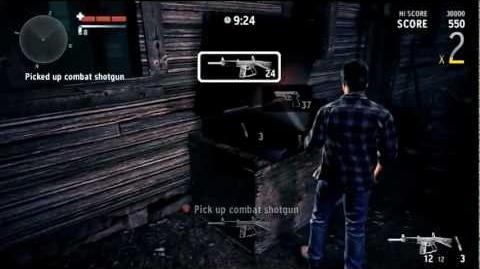 Ad blocker interference detected!
Wikia is a free-to-use site that makes money from advertising. We have a modified experience for viewers using ad blockers

Wikia is not accessible if you've made further modifications. Remove the custom ad blocker rule(s) and the page will load as expected.