Walter Snyder is a character who appears in Alan Wake and is the caretaker of the Anderson farm.
Alan Wake (Season 1)
Edit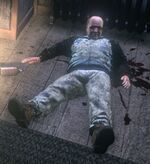 Walter first appears as a prisoner in Bright Falls jail Episode 2: Taken, drunk on moonshine. He begs to Alan to turn the lights on and admits that he's in jail for beating someone up. He then again appears on The Anderson Farm in Episode 4: The Truth, having gone back to get more moonshine, but is attacked by his now taken friend Danny. He is attacked and is found bleeding on the floor, dying shortly after he's finished talking with Wake.
He appears once more in The Writer in Alan's Mind when Alan runs around a giant wheel and Walt is begging for the lights to be turned on.
Ad blocker interference detected!
Wikia is a free-to-use site that makes money from advertising. We have a modified experience for viewers using ad blockers

Wikia is not accessible if you've made further modifications. Remove the custom ad blocker rule(s) and the page will load as expected.